Wacky Chaos 3 Piece Obstacle Course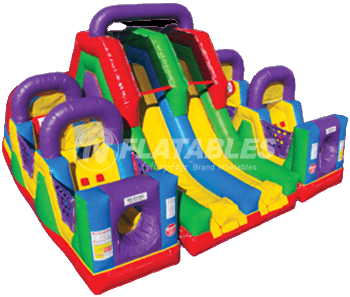 $600.00
*Holiday and Peek rates may apply
Actual Size: 25' L x 25' W x 16' H
Monitors: 2
Outlets: 2
Description
Introducing the Wacky Chaos 3 Piece Obstacle Course - the ultimate challenge for thrill-seekers and adventure enthusiasts! This exciting obstacle course features three distinct sections, each designed to test your physical and mental agility.
The first section features a series of inflatable obstacles, including tunnels, and walls that will have you crawling, jumping, and sliding your way to the finish line. The second section is a challenging balance beam course that will put your coordination and focus to the test. And finally, the third section is a thrilling slide that will have you soaring through the air and landing in a soft, cushioned pit.
Constructed from high-quality materials and featuring vibrant, eye-catching graphics, the Wacky Chaos 3 Piece Obstacle Course is the perfect addition to any event or party. Whether you're planning a birthday celebration, corporate team-building event, or just a fun day out with friends and family, this obstacle course is sure to provide hours of entertainment and excitement for all ages. So why wait? Get your Wacky Chaos 3 Piece Obstacle Course today and experience the ultimate adventure!