3D Snowman Bounce House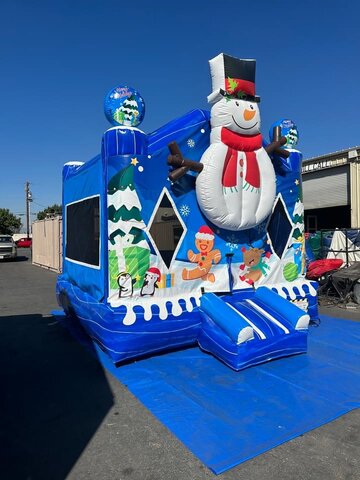 $195.00
*Holiday and Peek rates may apply
Description
Introducing our delightful 3D Snowman Bounce House, the perfect addition to any winter-themed event or holiday celebration. This enchanting inflatable brings the magic of winter to life, captivating children and adults alike.
Crafted with meticulous attention to detail, our 3D Snowman Bounce House features a charming snowman design, complete with a carrot nose, top hat, and a friendly smile. Its vibrant colors and lifelike 3D elements create a visually stunning centerpiece that will leave a lasting impression on your guests.
Built to provide hours of endless fun, this bounce house offers a spacious jumping area where kids can bounce, leap, and play to their heart's content. The high-quality, commercial-grade materials ensure durability and safety, making it suitable for both indoor and outdoor use.
Safety is our top priority, which is why our 3D Snowman Bounce House is equipped with reinforced stitching, safety netting, and secure anchor points. Parents can have peace of mind knowing that their little ones are protected while they enjoy the excitement and thrill of bouncing.
Setting up the 3D Snowman Bounce House is a breeze, thanks to its user-friendly design and included electric blower. Within minutes, you can transform any space into a winter wonderland, ready for endless bouncing adventures.
Whether you're hosting a winter festival, a school event, or a private party, our 3D Snowman Bounce House is sure to be a hit. It not only provides entertainment but also adds a touch of whimsy and joy to any occasion.
Don't miss out on the opportunity to create unforgettable memories. Bring the magic of winter to your event with our captivating 3D Snowman Bounce House.