30Ft Wacky Obstacle Course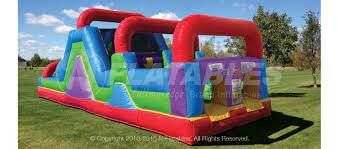 $295.00
*Holiday and Peek rates may apply
Actual Size: 32' L x 12' W x 12' H
Description
Looking for a thrilling and exciting way to add some fun to your next event or party? Look no further than our 30Ft Wacky Obstacle Course! This inflatable obstacle course is perfect for kids and adults alike, providing a challenging and entertaining experience that will keep everyone engaged and entertained for hours.
With its bright colors and wacky design, the 30Ft Wacky Obstacle Course is sure to be a hit with guests of all ages. Featuring a variety of obstacles, including tunnels, slides, and climbing walls, this inflatable course offers a fun and challenging experience that will test your skills and keep you on your toes.
Constructed from high-quality materials and built to withstand the rigors of regular use, the 30Ft Wacky Obstacle Course is a durable and reliable choice for any event or party. So why wait? Add some excitement to your next gathering with the 30Ft Wacky Obstacle Course today!