Our inflatable dry slide rentals are the perfect choice for locations where water use is not appropriate. This makes them the "Go To" choice for schools, churches, and company picnics. All of our dry slide rentals are manufactured from "lead-free" vinyl and are cleaned and sanitized before every rental. Browse the selections below and
click
on the image or "more info" link to get additional information and to make a reservation.
20ft Dual Wacky Slide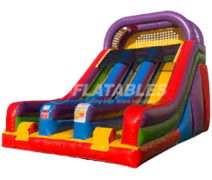 19 ft. Tidal Wave wet/dry slide with pool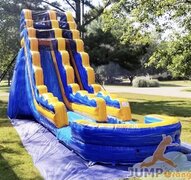 20ft Dual Lane Slide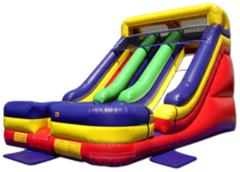 20ft Single Lane Slide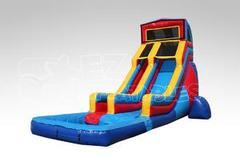 18ft Tall Slide

An inflatable slide is a large slide that, when inflated with air, becomes a fun play toy for children. Inflatable slides are available in a variety of styles. Some have traditional steps that must be climbed in order to get to the top of the slide, while others have fake rock climbing walls, rope ladders or obstacle courses.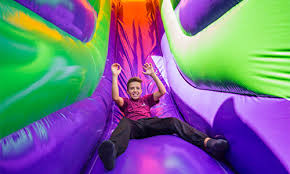 An inflatable slide is a fun addition to a child's birthday party or group activity. Renting an inflatable slide for your activity is a great way to give children of all ages a neat activity. While it may seem that these inflatable toys would be most appealing to small children, older children enjoy them as well, particularly if they have others their own age to play with